Intelligent Metadata Layer
The Intelligent Metadata Layer brings all your disconnected data silos together and provides users always the right content in the right context. It leverages artificial intelligence to automatically categorize information based on what it is, not by where it resides.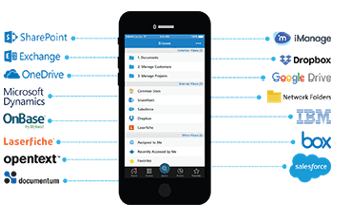 Unlock the value of information and drive business success
Imagine if it didn't matter where documents and other information were stored or which system managed them? What if chaotic file shares and network folders, all your SharePoint sites, and other disconnected information silos were brought together and users could always find the right information at the right time and in the right context?
Our system-neutral approach unifies information across systems like shared network folders, SharePoint, OpenText, Documentum, Box, Dropbox, Salesforce, and more, allowing the M-Files user to connect to external systems and repositories through connectors.
It no longer matters where information is located as M-Files and the Intelligent Metadata Layer (IML) eliminates information silos and unifies multiple systems and repositories. Content can stay where it is, without a need to migrate or duplicate the actual content. The context of the content can vary between different units and user groups in the organization, and everyone will find that one correct document in the context relevant to their workflows.
Put content in context with artificial intelligence
Wouldn't it be good if information was classified and organized automatically based on content and context?
Intelligent information management is much more than just a place to store and process information, it leverages an open architecture that supports best-in-class artificial intelligence, including text analytics, Natural Language Processing (NLP), Natural Language Understanding (NLU), and machine learning.
Artificial intelligence helps churn through massive amounts of information to recognize patterns and categories in the data. This helps put content in context and increase office work productivity, offer faster access to data, and improve the ability to process unstructured content. A practical use case would be looking for personally identifiable data from the masses of information in your current network folders to ensure data is stored in compliance with GDPR. A task that might be impossible without the help of AI.
Analyzing, classifying and tagging documents automatically allows users to focus on managing business processes efficiently while enriching the metadata for further use cases and benefits. It will also help avoid human mistakes and inconsistencies in tagging data. Additionally, the system adapts and improves over time based on key metrics and user behavior.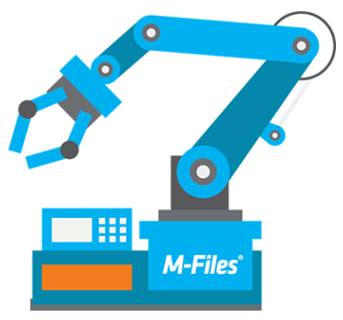 Manage content based on its business value
Information workers need to deal with the massive amount of rapidly growing enterprise data. Key records such as proposals, agreements, or financial documents, need to be always found rapidly and in the right context and you want your information management system to alert the stakeholders when it is time to either re-negotiate the contract or dispose of an old record. The problem is that business-critical documents reside in several different repositories and systems among a huge amount of dark data.
It is not longer efficient to treat all content equally. With the Intelligent Metadata Layer you can connect M-Files to your data repositories and provide users immediate access to the data via the same, unified user interface. M-Files leverages artificial intelligence to help you easily identify business-critical data from the clutter. M-Files suggests key metadata attributes for the content automatically and ensures that content is routed via appropriate workflows and that records are applied the right retention policies. This ensures better compliance, more efficient processes, and immediate recognition of vital records from clutter. At the end of the day, it is about streamlining workflows to improve the efficiency of office work.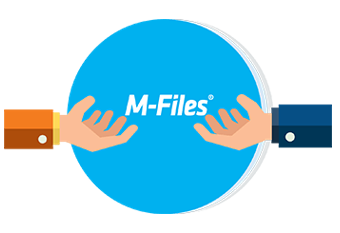 Put your email content under control
Email is the most common channel for business communication. It often contains important business information, and attached files related to customers, cases, or projects. Therefore, it is vital that you can manage email content the same way you manage other forms of information.
M-Files provides metadata suggestions for emails and attachments by automatically analyzing the content and header data. This increases email filing consistency and accuracy, and allows you to manage email content efficiently. Filing and managing is easy and intuitive, and improving over time as machine learning picks ups the behavior patterns.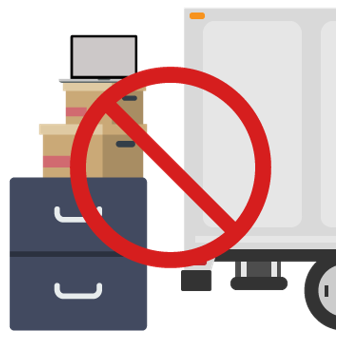 No need to migrate
One of the first and biggest stumbling blocks to implementing a new information management or ECM system is data migration, How do you get all your existing data into the new system? It's difficult, time consuming and expensive and all those data repositories are full of the ROT (redundant, obsolete, and trivial) data.
What if you got instant access to all legacy data on day 1 without having to migrate anything, or you could migrate when you choose, intelligently, based on how business-critical the content is?
Eliminating the need for content migration to be able to work with files, regardless of file location and device provides a unique benefit especially to organizations with siloed information environments.
M-Files provides instant access to all your systems and repositories on laptops and mobile devices, online and offline, and the data can remain where it is.